Baron Philippe de Rothschild dog den 20 januari 1988. Han var också poet. I sitt andliga testamente till dottern Philippine skriver han: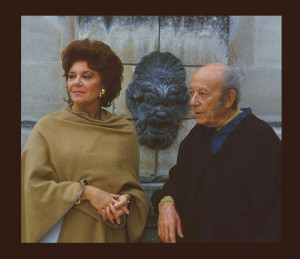 For Philippine
Wine
Born
It lives
But die it does not
In man it lives on
Heaven working
Nature moving in man
Soft as the soul moves
Seeking its source again
Mirror of those who have made it
A true grace, holding a sacred hope
The wine-god going among us in the glass
Bearing a message of age-old magic
May the work of great masters
Enliven each label
With echoes of Mouton
Fire and fervour
Year after year
This is creation
A work
Life
Wine
Philippine de Rothschild tog över vid sin fars bortgång. Hon hade successivt vuxit in i sin uppgift genom att följa sin fars arbete på nära håll. I valet av konstnär eftersträvade hon geografisk spridning. Som sina personliga favoriter nämnde hon popkonstnären Keith Haring 1988, Francis Bacon 1990 och Balthus 1993.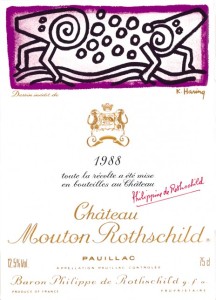 Den enda skandinav som fått uppdraget är den kraftfulle koloristen, dansken Per Kirkeby. Vi skandinaver som är förtjusta i Per Kirkebys färgskimrande naturmåleri var stolta och glada när han fick uppdraget.

1992: Per Kirkeby
Kirkeby har kallats den glömske minnesmålaren, som letar efter vissa minnen av färger och stämningar. Karaktäristiskt är även en kontrastverkan mellan ljusa och mörka färger. Etikettens röda schatteringar påminner om lyckliga stunder vid rödvin av olika mognadsgrad. Här finns ett överfullt vinglas i jätteformat och solens strålar som värmer druvorna på vingården; kultur och natur smälter samman i en tidlös stämningsbild.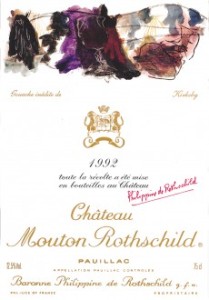 Keith Harings motiv passar definitivt bättre för etikettens lilla format.
Konstnärerna har haft friare händer efter 1988, men Philippe de Rothschilds idéer lever vidare. Etiketten för årgång 2013 designades av en sydkoreansk konstnär, Lee Ufan.
Philippine de Rothschild moderniserade och forsatte med världserövring, speciellt i Asien. Hon dog den 23 augusti 2014. Hennes tre barn har tagit över med Philippe Sereys de Rothschild som styrelseordförande för företaget Baron Philippe de Rothschild S.A.